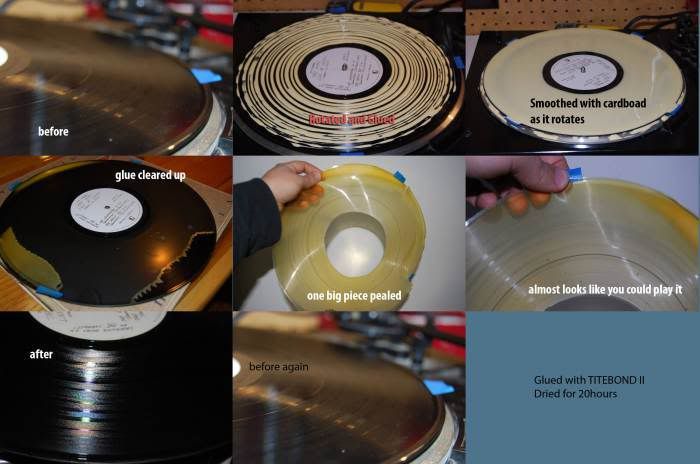 I stumbled onto this tip a while back and quickly realized how awesome this is, so I thought I would share it with you guys. Using simple PVA craft glue aka wood glue to create a mud-mask of sorts to harden and pull out all the dirt, grime and dust a record collects over its lifetime. (It's important that you use wood glue as it will not bond to the vinyl).
Instructions:
1) Place you vinyl on a turntable, preferably a cheap one. No one wants to risk a nice Vestax or Technics turntable or lay underneath your record a big sheet of wax paper to protect against spillage.
2) Start the turntable and begin to apply a steady, even stream of wood glue. Make sure you use enough glue to create a nice thick layer, if you make it too thin, you're gonna be spending hours picking off little crumbs of glue.
3) Smooth out the lines of glue as the record spins and allow the glue to dry completely, roughly 20 hours.
4) Use an Post-it or similar adhesive tab to peel the dried glue from the record. Celebrate and brag to your DJ friends about your accomplishment.